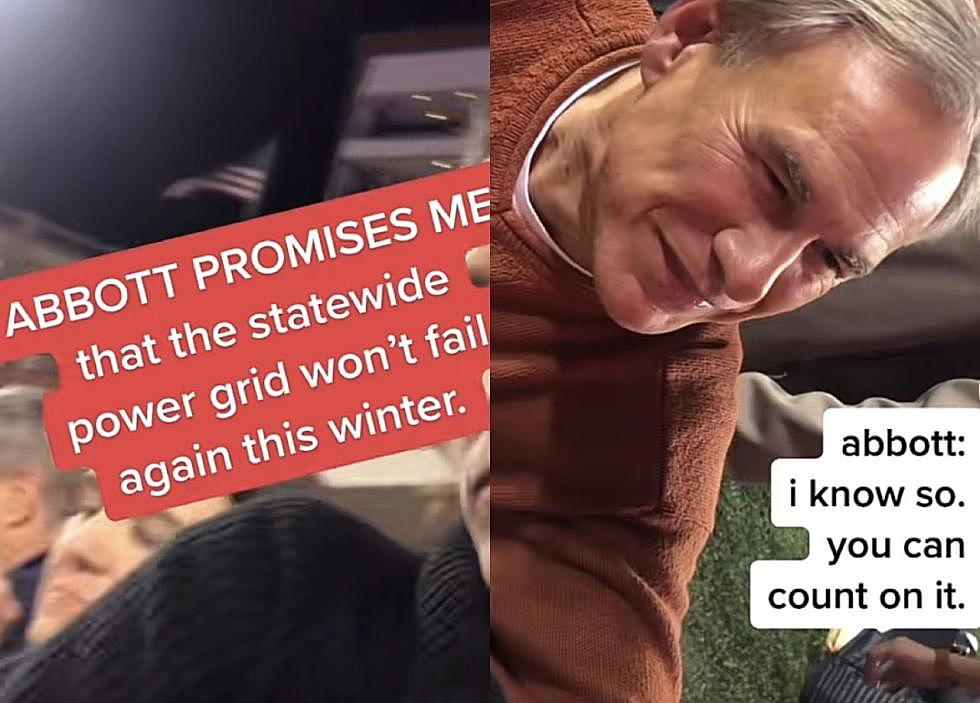 Greg Abbott Promises the Texas Power Grid Won't Fail This Winter
@lenablietz via TikTok
A viral TikTok with nearly 2 million views shows Lena Blietz, a sports journalist in Texas, confronting Greg Abbott from the stands at a Longhorns football game.
Gov. Abbott seemed to be working the sidelines at the game, interreacting with the Longhorns fans. Blietz calls out his name to grab his attention as he passed, and he stopped to say hello.
She told Gov. Abbott about how she got stuck in Brownfield this past winter during the power grid failure. She then asks him to promise that it won't happen again.
"I can tell you that it won't happen again," he said. "As we speak right now, they've added 15 percent more power generation capacity." Blietz asked him to shake on it and promise that what he said is true. He responded with, "I know so. You can count on it."
As captioned in the video, Blietz was at the game as a fan, but couldn't miss her opportunity as a reporter to ask this one important question. We can only hope that Governor Abbott's answer is honest and that we won't face another power outage like we did earlier this year.
Lives were lost during winter storm Uri, and the entire state is terrified that they will suffer again the way they did earlier this year. This winter is anticipated to be a cold one, and you would expect that after such a disaster they would do everything they can to ensure there won't be a repeat.
We'll keep our hopes up that the grid will hold strong, but it's always good to be on the safe side. You can visit cdc.gov for information on how you can prepare for a winter storm.
20 Striking Photos From Across Texas During Winter Storm Uri
Texas was hit hard by Winter Storm Uri, a polar vortex which led to millions being without power for days in constant freezing temperatures. These photos show the good, the bad and ugly of the crisis.
Lubbock's Near-Historic 2015 Blizzard
Tornado and Wall Cloud Pictures From Monday, May 17th, 2021