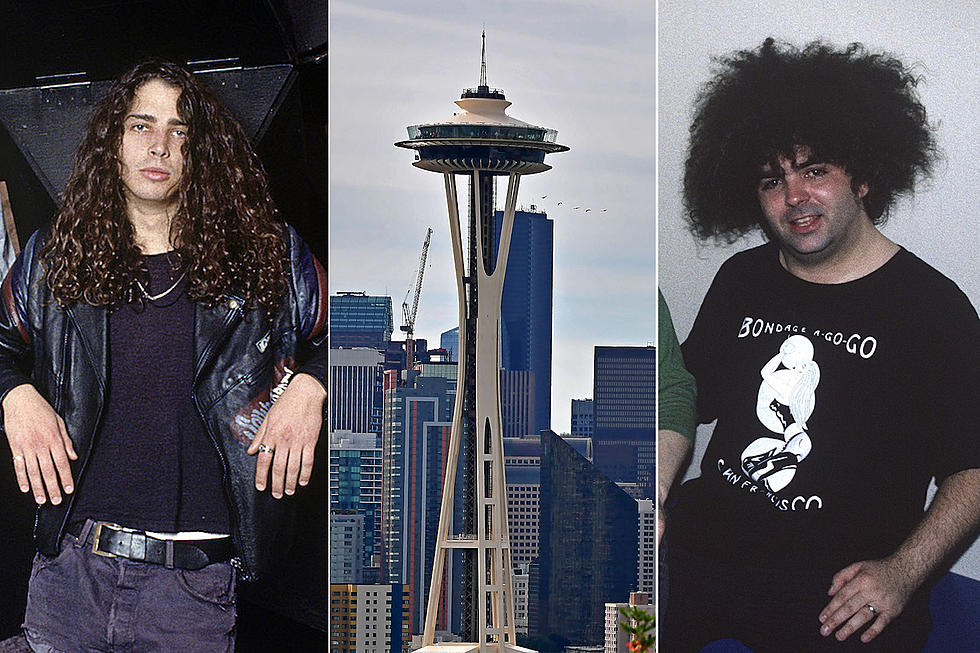 Where Did the Word 'Grunge' Come From?
Krasner/Trebitz, Getty Images / Donald Miralle, Getty Images / Tim Mosenfelder, Getty Images
Where did the word "grunge" come from?
We know what you're thinking — "grunge" is just a made-up word that lumped a bunch of bands together that sound nothing alike! Yeah, well, it still had to come from somewhere. So, that's what we're here to talk about.
"Grunge" is a label that was given to a lot of rock bands that formed in the mid-to-late '80s and early '90s in the Pacific Northwest. So while they're typically associated with the city of Seattle, a lot of them also came from and performed in neighboring cities, such as Olympia, Tacoma and Portland, Oregon. And sure, a lot of the bands did sound pretty distinct from one another, but a lot of them had similar influences, similar outlooks on life and success and even similar senses of fashion — or, lack thereof.
When people use the term "grunge," they're typically referring to Nirvana, Soundgarden, Alice in Chains and Pearl Jam, who are often regarded the "Big 4" equivalent to Metallica, Megadeth, Slayer and Anthrax with thrash.
But who invented the name? First, we have to define the word, and then explore its origins and how it eventually became related to this subgenre of rock 'n' roll.
What Is the Definition of Grunge?
Google defines "grunge" as an informal way of saying "grime, dirt," and also, "a style of rock music characterized by a raucous guitar sound and lazy vocal delivery."
Who First Used 'Grunge' to Describe Music?/How Did Grunge Get its Name?
According to Northwest Passage, Green River and Mudhoney frontman Mark Arm described one of his proto-bands, Mr. Epp and the Calculations, as "grunge" in a letter, which was noted by Clark Humphrey in the book Loser: The Real Seattle Music Story. 
Bruce Pavitt, co-founder and co-owner of Sub Pop Records, was the first to use the term in the media a few years later. When the label was promoting Green River's 1987 Dry As a Bone EP, Pavitt described the release's sound as, "Gritty vocals, roaring Marshall amps, ultra-loose grunge that destroyed the morals of a generation."
"But there was never a calculation that we had decided that this music is grunge," fellow Sub Pop co-founder and co-owner Jonathan Poneman told us in an interview.
How Did the Artists Feel About the Term?
Like most other music labels, many of the artists that came to be associated with "grunge" weren't fans of it. But, as time has gone on, they seem to care less about being categorized and are proud to have been part of such a revolutionary scene in music.
READ MORE: Every 'Big 4' Grunge Album, Ranked Worst to Best
"Grunge, as a term, nobody liked that. Everyone thought, 'Oh, this is a marketing thing. This is a way to file Seattle on a retail display in a record store,'" Soundgarden guitarist Kim Thayil recalled to us. "But eventually, we all just came to embrace it. It's just an easy reference."
"I personally don't mind the term," Soundgarden and Pearl Jam's Matt Cameron added. "If they equate that term with my bands and a music scene that I'm really proud to be a part of, then so be it, man. I know a lot of guys who were sensitive to it when it first came out there. I guess there was a need for a label from the industry, from the press."
12 Bands Considered Pioneers of Grunge
They kickstarted a new genre.