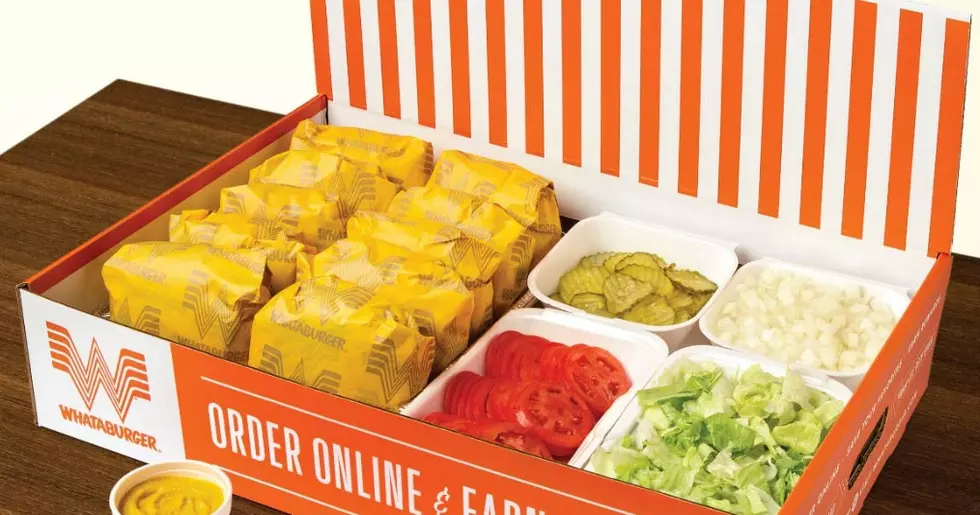 Lubbock, Did You Even Know You Could Order a Whataburger Box?
via Whataburger.com
Whataburger is a staple of the standard Lubbockite diet. Whataburger has saved my life multiple times at 3 a.m. I never don't want a potato egg taquito.
But today is the first time I've ever heard about the Whataburger box, which is 10 plain burgers with the toppings and condiments on the side. I found out about the box because a woman went viral on TikTok after Whataburger employees wanted a picture of her for ordering the first one ever from their store.
Before we go any further, yes, you can order this in Lubbock. They have it available to order online or in-store at participating locations, including the closest one to the radio station (lucky me!).
I asked my darling friend who manages a Whataburger here in Lubbock what he thinks about the box:
They're super efficient for us, because we don't have to individually customize every burger for a big order (10+), basically discounted for the customer a bit [...]. It's a great option for big orders. And even better if you know ahead of time to give a heads up. I'm very pro-box, too. I've seen units in other cities running 10 box orders (called well in advance) and just smooth operation for big orders. I dig 'em
So the box is popular in some markets already and they're being sold in Lubbock. However, many viewers of that viral TikTok video were shocked, surprised and even skeptical of the Whataburger box.
wait I've lived in Texas my whole life and have never seen or heard of a burger box at whataburger

I don't think my store has even sold one

where is this, college Station whataburger looked at me like I was crazy when I asked for it
But this is by far my favorite comment (extra points for the username):
they did the same to me, when i was the first to use the restroom they took a picture & gave me toilet paper, a mop & a #2 table thingy
Does anyone else want the burger box... for the box? Those orange stripes are just so pleasing. Of course, I wouldn't turn down 10 of the finest burgers on the planet, either.
11 Great Places To Get Queso In Lubbock
12 Times Lubbock Was Embarrassed in the National Media
From the absurd to the hilarious, here are 12 times the Hub City made national headlines.
66 Time Lubbock Was Mentioned In Pop Culture