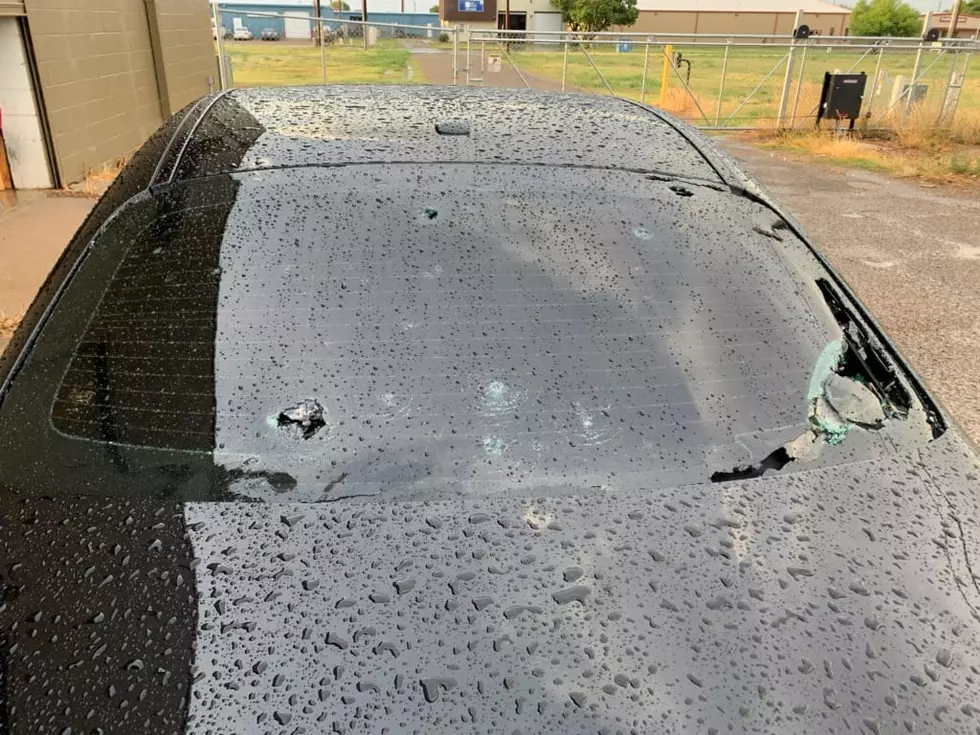 Sadly, Lubbock Weather Champion Ron Roberts Did Not Escape From Hail Damage
Ron Roberts via Facebook
Enter your number to get our free mobile app
Sadly, the Hub City's fearless meteorologist and champion of all weather updates did not escape Lubbock's fierce blast of hail on Wednesday (May 20th), according to his Facebook post. We're sorry to see he suffered this horrific car damage.
Unfortunately, from the looks of it, his car, and especially its rear window, didn't stand a chance. In addition to the hail strikes which managed to break glass, there are many other dings and impressions across the roof and back of his car.
---
It doesn't take an expert to see and measure these dings and dents. This is one of the worst kind of hail strikes. Arguably the front windshield would be even worse to have blown out, but as I understand it, our front windshield is made of tougher stuff to avoid breaking and shattering then the rest of a car's windows.
You can see the marks so clearly their measurable and Ron Robert's comment sized them up for us:
3.5" hail did not spare my vehicle. I have never witnessed a hail event which covered the city of Lubbock almost 80%. And Lubbock has been hit three straight years with a hail event. But 2020 is the hail beast!!
Lubbockites reported hail that was not just large, but jagged (see photo gallery below). They shared many pictures of the stuff large enough to fill the palm of your hand. This is the kind of weather you want to seek shelter from for yourself and your vehicle.
There's no doubt insurance adjusters will be busy and dent repair will be working around the clock. So even if your windshield didn't break, don't put it off; check your vehicle for hail damage if it was outside during the recent hail storm.
I hope you faired better than our own Ron Roberts. As we ramp up for Memorial Day weekend, keep an eye and ear on the weather and stay safe.
Take care, Ron Roberts. We wish the very best for you and the speedy recovery of your vehicle.
Lubbock Hailstorm (May 20th, 2020)
Lubbock Hailstorm (May 20th, 2020)
13 Deadly Animals in Texas