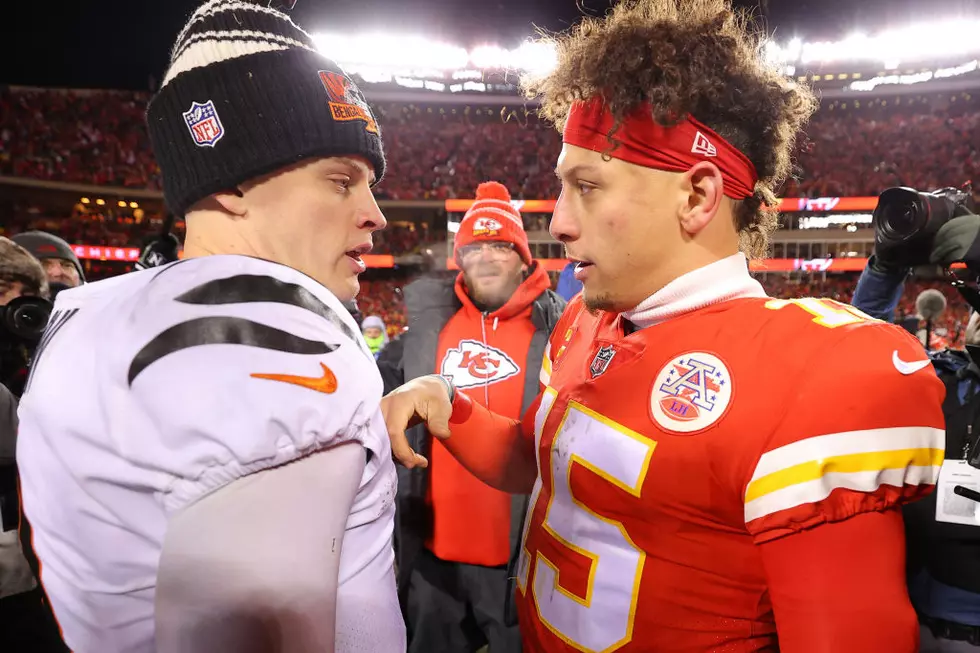 The Kansas City Chiefs Took All the 'Burrowhead' Jabs Personally
Getty Images
There was a lot said last week leading up to the AFC Championship game about Joe Burrow, Patrick Mahomes and the legacy this title opportunity could provide to both quarterbacks. In some ways, it was more important to Burrow. In other ways, it was more important for Mahomes. In the rational mind, it was equally important to both.
There's one thing that's generally not present in sports debates though and that is rational thought. So, when the topic was broached most of the week the conversation leaned toward Burrow taking over the AFC and Mahomes not being able to beat him.
Yes, Mahomes was 0-3 against the former National Champion, but the young tiger has zero skins on the wall beyond beating Mahomes and appearing in a Super Bowl. Mahomes is a league MVP, Super Bowl MVP and Super Bowl Champion. It was obviously Burrow chasing Mahomes, which made the Bengals players calling Arrowhead Stadium, 'Burrowhead' a little perplexing.
Burrow was 1-0 at Arrowhead before this weekend, but why give the Chiefs all that bulletin board material? If you missed the initial interaction on the sideline of the AFC Divisional win over the Bills, this is where it started.
The actual MAYOR of Cincinnati doubled down the 'Burrowhead' smack talk by alluding that Joe Burrow was Patrick Mahomes' father in a video that will live in infamy.
The 'Burrowhead' comments set social media ablaze but I didn't see much from the Chiefs so I had to just assume it reached their locker room. That is until Chris Jones said this last friday, "We'll see you at Burrowhead."
After I saw this press conference, I knew it was on.
The first quarter was a nightmare for Joe Burrow. The Chiefs had three sacks and the Bengals had two pre-snap penalties because the crowd was so incredibly loud. After that, the game settled in, but Burrow threw two interceptions and was sacked again on the Bengals final drive giving the ball back to the Chiefs for Mahomes to set up Harrison Butker to win the game.
That last sack was from none other than Chris Jones who said this after the game, "Don't you ever, ever, ever, and I'm going to look right into the camera when I say this, disrespect Arrowhead."
Then Travis Kelce let his thoughts on "Burrowhead' be known.
Mahomes had to get his own jab in too.
Safety Juan Thornhill on the BS.
Then of course this, allegedly, from a player in the Chiefs locker room.
The Bengals only lost by three points, with some wacky officiating, Mahomes on one leg out dueling Burrow, Chiefs losing starters left and right, and some frigid temps, but I don't think there was any way Mahomes was letting Joe Burrow get to 4-0 against him.
The Chiefs made sure of it, and they definitely took it personally.
They'll now shift their focus to Arizona where they'll play the Philadelphia Eagles in the Super Bowl in two weeks.
Patrick Mahomes Finally Beats Joe Burrow to Win AFC Championship
Patrick Mahomes and the Chiefs were 0-3 against Joe Burrow and the Bengals before finally slaying the dragon 23-20 in the AFC Championship. The Chiefs will head to their 3rd Super Bowl in four years after playing in their 5th straight AFC Championship game.