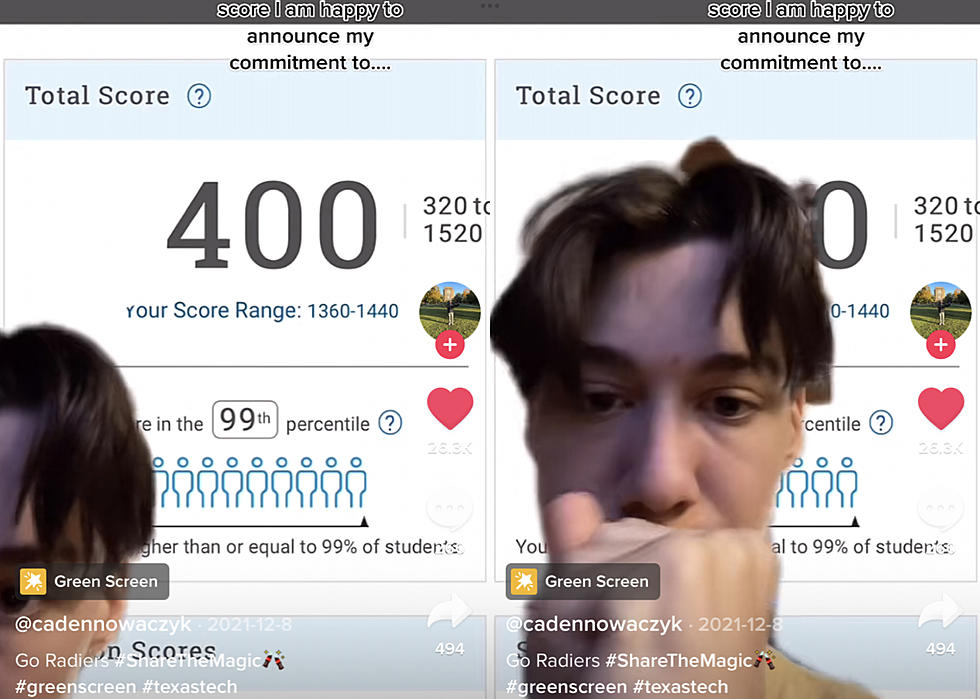 TikToker Goes Viral For Making Fun of Texas Tech University
@cadennowaczyk via TikTok
I will be the first to say that I love Texas Tech University. I think it's a fantastic school with many amazing professors, programs and students, and I am proud to be a Tech alumna. Keeping all that in mind, I still had a good laugh at this TikToker who went viral for making fun of the school.
The video is captioned, "after receiving my PSAT score I am happy to announce me commitment to…" The video then shows his PSAT results that say look like he only scored a 400. The video then shows a bunch of photos from Texas Tech including Raider Red, the university seal, and fans at a football game.
The video was posted last month, and currently has over 237,000 views and 26,000 likes. Looking at the comments on the video, there are plenty of people that agree with the TikToker and continue to roast the school. One commenter even said that you just need a pulse to get into Texas Tech. Another commenter also dug in and said, "bro committed to Walmart."
I will say they there's some validity to these harsh comments. During my time at Texas Tech, I encountered plenty of people that made me question how they even made it to college in the first place. There were also a shocking amount of people who would be failing courses that I thought were quite easy. Whether it's a matter of intelligence or simply a lack of care, either way, there were plenty of people that I was nearly certain were going to flunk out.
All jokes aside, there are plenty of brilliant people that go to Texas Tech, but it still gets a bad rep for being one of the easiest universities in Texas to get into. As of 2020, Texas Tech University had an acceptance rate of 70 percent. I do think it's important to point out that the school doesn't actually have the highest acceptance rate of all the Texas universities. Texas State University is sitting at an 84.5 percent acceptance rate, and the University of North Texas is at 84 percent.
No matter the school's acceptance rate or the stereotypes that it's gathered over the years, Texas Tech is an amazing university to attend, and I think it's important to be able to love something but still find humor in it.
5 Lubbock Airbnb Rentals for the Perfect Valentines Getaway
These are a few Airbnb rentals in and around Lubbock that would make for the perfect Valentine's weekend getaway. As of January 11th, 2022, they are all available to rent between February 12th and February 15th.
What House $500,000 Gets You: Lubbock vs. Miami
This s what $500,000 can get you in Miami, Florida compared to Lubbock, Texas.