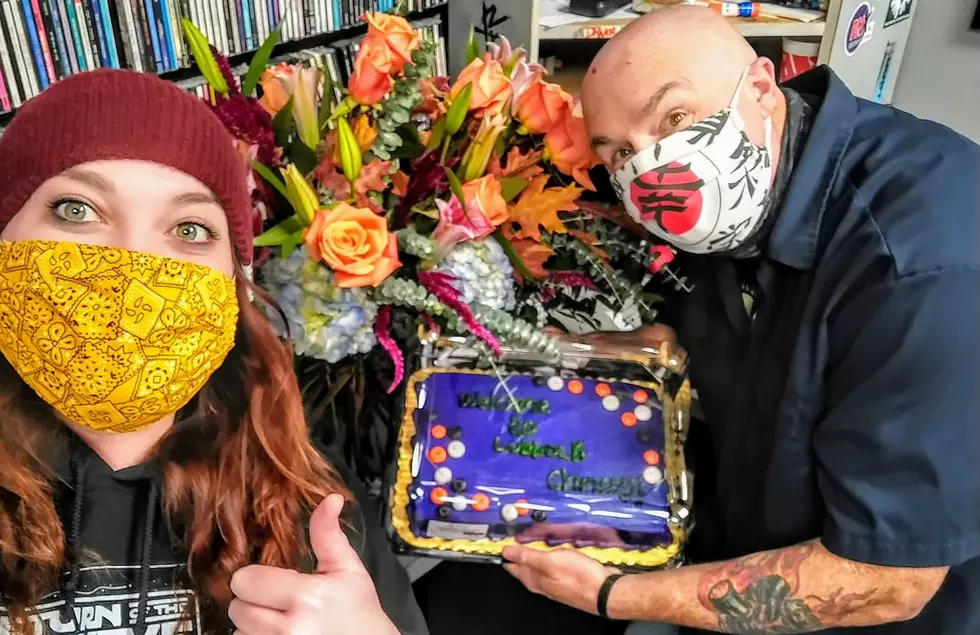 United Supermarkets Welcomes Chrissy to 94.5 FMX's The RockShow
Chrissy Covington, 94.5 FMX
Enter your number to get our free mobile app
United Supermarkets and Market Street made a surprise visit to The RockShow Monday morning to welcome (spoil) me back to Lubbock.
They brought an absolutely spectacular floral arrangement that honestly took my breath away by its sheer size. It will prove a daunting task for my boyfriend to compete with such a gargantuan setup as the one before me, which takes up nearly my entire desk. I don't know much about flowers, so I would probably make myself look stupid if I tried to describe exactly what was in the huge vase.
Pictures will do better justice, but none of you will get to experience how lovely my office smells now, and I'm sorry for that.
Oh, and before I forget, they also brought me a tasty purple cake from the bakery at Market Street. I don't think they knew, but purple happens to be my favorite color, and the vanilla cake and icing were so delicious. Nothing brings the office together quite like free cake - or tears it apart like fighting over the last piece.
I'd like to give a huge thank you to United and Market Street for making my day. I will show my gratitude by dropping by the newly renovated 98th and Quaker location for groceries after work.
If you haven't had a chance to see it, they've added self-check out lanes, a Starbucks, and even a culinary corner for all of the foodies out there like me. If you haven't been venturing out lately because of this pandemic, make sure you check out their website to place your grocery order for pickup or delivery.
10 Famous People Who Went to Texas Tech University