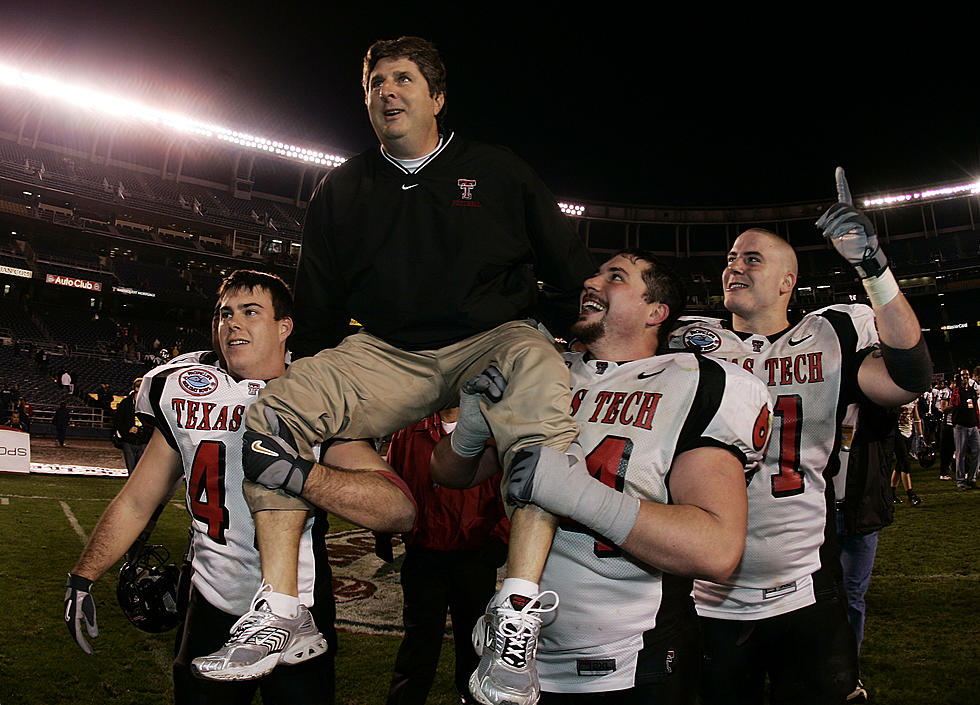 What Red Raider Coach Mike Leach Meant To Lubbock
Donald Miralle, Getty Images
I just can't seem to put the word "former" in front of "Red Raider Coach" when it comes to Mike Leach.
Up until the point that Coach Leach suffered his major heart attack, there were still people in this town that hope that there was some way he'd return to Texas Tech. After all, we've all seen pirates return at the most unlikely of times to save the day. I guess we knew it wasn't going to happen, but it sure would have been epic.
I thought long and hard over whether I should be writing this, but I think in some ways I'm the perfect person to be writing it. I was a mark for Mike Leach. I was completely sucked into the program during his tenure, and with the exception of the time his prodigy Kliff Kingsbury was in charge, I sailed my separate ways too.
The thing about Coach Leach was, we were all on the ship together and we kept conquering more and more. It certainly wasn't one of those instances where we were the top bidder for an established coach; we invested in a potential talent and the gamble paid off for everyone.
The thing about Mike Leach's brand of football was, you knew you were in for an exciting game. Almost without fail, win or lose, you knew there were going to be big moments to celebrate.
Then we started towards what I like to call "the wacky neighbor syndrome". Every sitcom has that wacky neighbor that you want to see more of, then, we the show delivers what you want, you get a little tired of them. I believe Texas Tech had a little bit of "the wacky neighbor syndrome" when they axed the coach.
I don't believe the firing of Coach Leach was a justified firing, and I believe he (or his family) is still owed money. I believe as many do that he was the victim of a high-profile pseudo-celebrity pulling some bad strings to get him fired. I also don't believe the coach did anything wrong, as the instance was like something that EVERY person who has played football has faced ("oh, you don't want to practice...then go over there until you do...").
I never bought into any of the pirate nonsense. I guess someone brought it up and the coach just leaned into it. I guess it was just a convenient marketing hook for the coach. For me, Coach Leach brought the fun back into football. He made it big, dramatic, exciting, and thrilling to watch. You can remember him as a pirate if you want, but I'll always remember him as someone who injected life not just into one program, but into football as a whole.
Thanks for the ride coach, it's never going to be the same without you.
5 Things Lubbock, Texas Is Known For
House of Bone And Glass: An East Texas Anomaly For Sale
This four-bedroom, four-bath house in Huntsville Texas is constructed of many recycled materials- including vinyl records, beer caps, glass shards, and many, many bones.