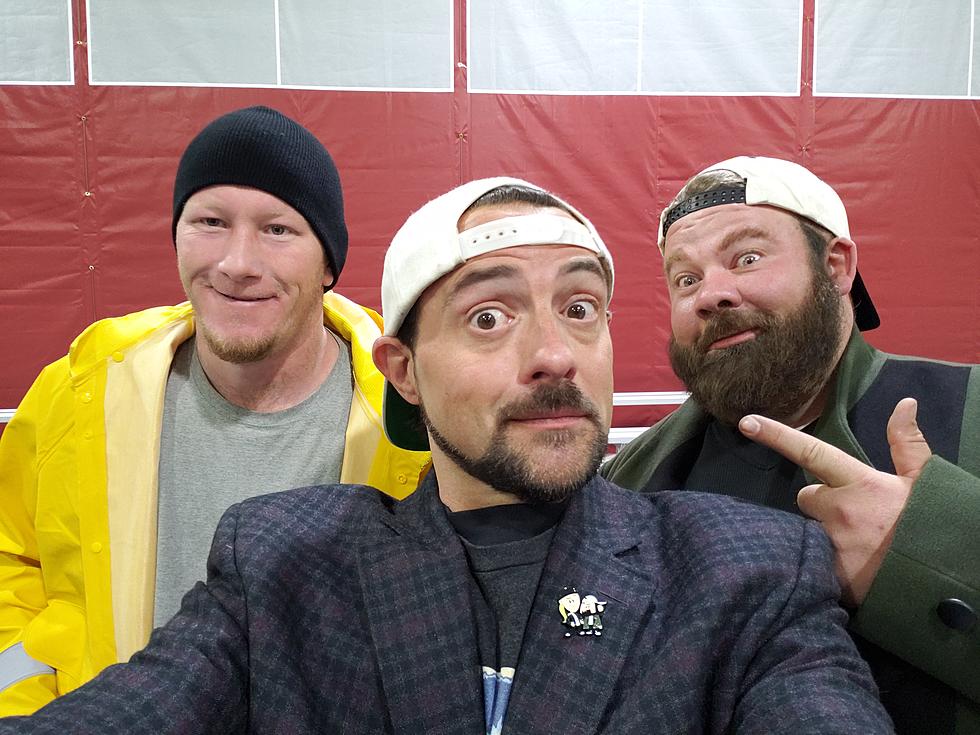 Meet the Two Guys From Lubbock Who Appear in 'Jay & Silent Bob Reboot'
Courtesy: Jay Boyd
It's not every day someone from Lubbock appears in a major motion picture. It's even rarer when it's two people. Add in one of the funniest and longest-running cinematic universes (Clerks came out in 1994 -- eat your heart out, Iron Man!), and you've got one of the rarest events in Hub City history.
Meet Jay Boyd and Jeremiah Stone. Jay was a stand-in for Silent Bob in Jay & Silent Bob Reboot, and both he and Jeremiah were extras in the film.
That's right: Jay and Silent Bob basically live in Lubbock, Texas. Basically.
Our very own Digital Managing Editor Justin, otherwise known in the office as the God of all things Googular, the germ worm himself, had the chance to ask these local celebrity-types some questions about their experience on-set for the movie.
Justin asked the guys to tell him a little bit about the experience, and of course it all started with a very persuasive wife.
"This whole thing started 3 years ago when Jeremiah Stone and I were persuaded by my wife to dress up as Jay and Silent Bob for Halloween," Boyd explained. "So we hunted around at goodwill and other places and pieced together our costumes. Later that night, we went to Texas Cafe where they were having a costume contest where we won first place. A few weeks later, we were contacted and told about Kevin Smith...writing a script for the Reboot and that he planned on using fans as extras. We didn't think anything about it. And then 2 years later, we get the casting call. The next thing we know, we get final notice that we were, in fact, in!"
Boyd had kind words for the stars of the movie, Kevin Smith (Silent Bob) and Jason Mewes (Jay).
"They say don't meet your heroes...that couldn't be further from the truth when it comes to Kevin and Jason," Boyd gushed. "They were the nicest people I have ever met! They truly love their fans and very down to earth and personable. But they are completely opposite of the characters they portray. Kevin loves to talk, and Jay is fairly quiet (until he gets in front of the camera). He did let me fly his very expensive drone during a break."
While on-set, Boyd said he was lucky enough to meet several movie stars, musicians and celebs.
"There were quite a few celebrities on set..got to meet a few of them," Boyd said before listing off a bunch: "Walt Flanagan, Bryan Johnson, Mike Zapcic, Ming Chen, Diedrich Bader, Rosario Dawson, Brian O'Halloran (Dante from Clerks), Chris Jericho, Method Man and Red Man, and a few more from the View Askew universe."
Boyd was mum on details of the movie and its plot, but did drop a fun tidbit.
"There were way to many funny things to pick just one, but the craziest things I got to witness and be part of was seeing IronBob for the first time and actually get to see the stunts being performed in person," he told us.
We're all looking forward to seeing the movie, and will be sure to give our review for the performances of Jay and Jeremiah, along with that of the other "actors" in the film.
Check out some pictures of Jay, Jeremiah and the only and only Kevin Smith below.
Meet the guys from Lubbock who appear in 'Jay and Silent Bob Reboot'