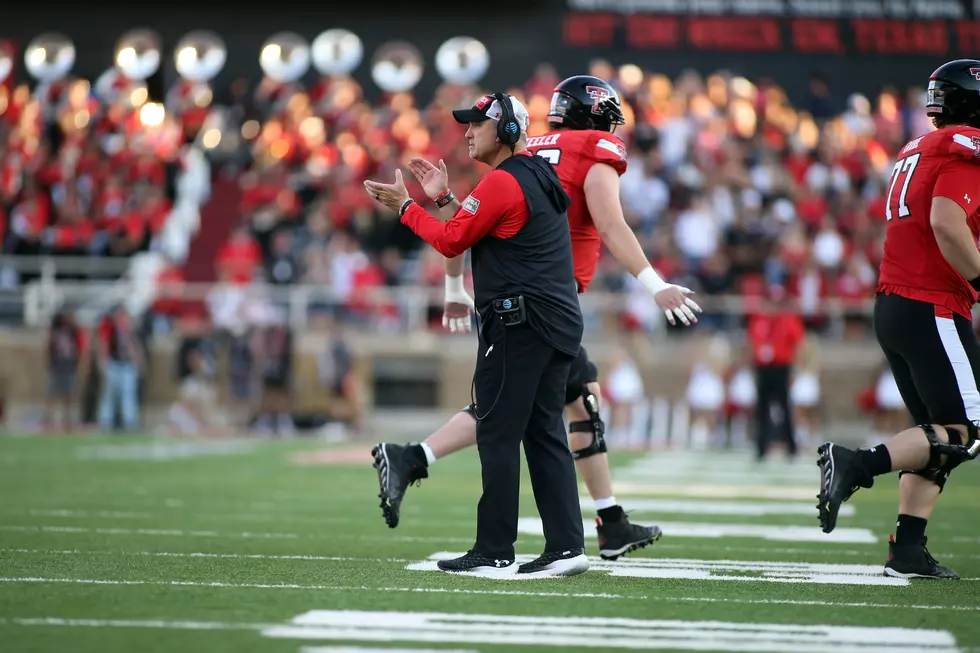 Joey McGuire Inks Contract Extension With Texas Tech Football
Paul Roberts, kkam.com
When Kliff Kingsbury finished his first season at Texas Tech in 2013 at 7-5, Kirby Hocutt and the Athletic Department extended his contract. In hindsight, there wasn't any reason to extend that early, but it was a showing of good faith after a solid start. Kingsbury's 2014 was a miserable 4-8 which made that extension look worse and Kingsbury held on an extra year in the end after going 6-6 in large part because of that extension.
Hocutt has made it a habit to extend coaches early, doing so after Mark Adams Sweet 16 run last year. A rough patch in the basketball season made some questions of a quick extension bubble up, but the best week of the season has pushed back on that uncertainty.
It's natural to feel a little apprehensive about an early extension, but in the case of Joey McGuire, this is a well-earned raise and extension. Texas Tech has announced the head coach was extended through the 2028 season this afternoon heading into the Red Raiders bowl game against Ole Miss in Houston, Texas.
"Under the terms of the six-year, $26.6 million agreement, McGuire will receive $100,000 annual increases in his yearly compensation, rising to $4.6 million for the 2028 campaign, which does not include various performance bonuses." According to TexasTech.com, "The contract is worth roughly $1 million more annually than McGuire's original agreement and has been approved by the Texas Tech University System Board of Regents."
McGuire certainly wasn't low-balled in the initial offer, but the first-time Power 5 head coach signed a first-time Power 5 head coach contract. The million-dollar-per-year raise puts McGuire near the middle of the Big 12 in compensation, and the highest-rated recruiting class at Texas Tech since 2011 is more than enough reason to make the extension happen.
McGuire has also proven himself on the field, which would inevitably lead to job offers from other universities. No other head coach at Texas Tech, since Mike Leach, has managed a winning conference record in Big 12 play. No other Texas Tech coach had ever beaten OU and Texas in the same season. The recruiting is better than it's been in a decade-plus and it's not even particularly close in that respect.
In most first-year contract extensions my first question is, "Who is coming to get this guy to necessitate an immediate raise?" In McGuire's case, there might be quite a few programs willing to match Texas Tech's original bottom of the Big 12 contract to get McGuire's vast Texas high school recruiting network.
If Texas Tech wants McGuire to remain at Texas Tech leading their football program, there might be another raise and extension in 2024 or 2025. if McGuire continues on his trajectory and wins 8 or more games and signs a top 20 class in 2023, there might be another raise and extension 365 days from now.
The Texas Tech Red Raiders have an insane battle against the Oklahoma Sooners
Texas Tech got behind 24-6 before storming back and making it a contest.
Remembering Mike Leach 1961-2022