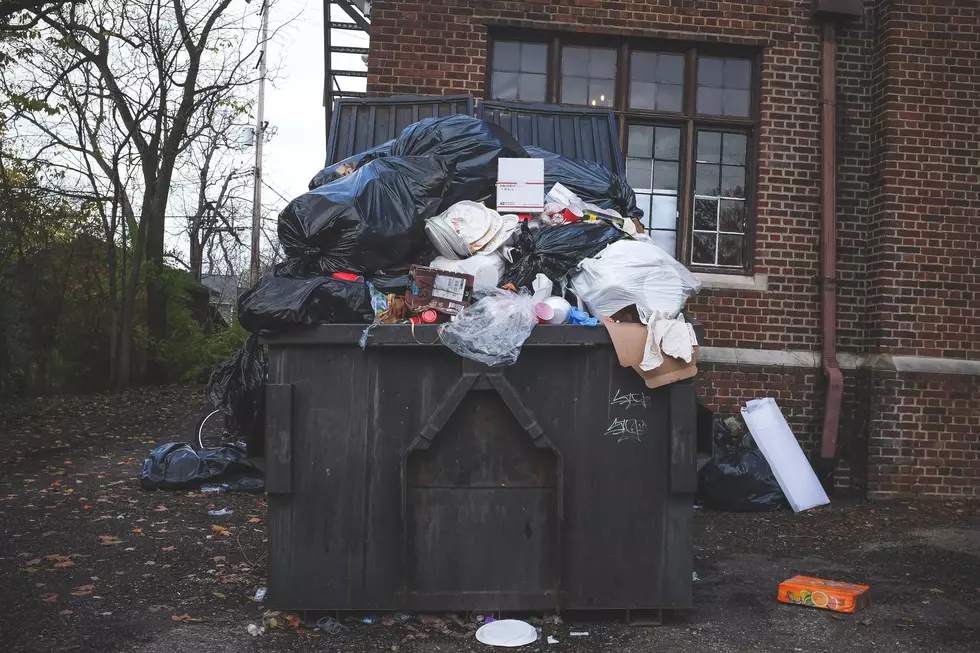 Lubbock, You Are NOT Allowed to Put These Things In A Dumpster
Photo by Kenny Eliason on Unsplash
I'm pretty sick of the "every man for himself" mentality bleeding out in really dumb ways, like the selfish people who misuse and abuse Lubbock dumpsters.
We are actually quite fortunate to have dumpsters, in other places we'd have to walk our plastic bin to the end of our driveway, and if we missed the garbage man, we'd just have to bring our trash back up to our house. Dumpsters are incredibly convenient, but we could lose them if we don't follow the rules.
And here's the thing- the rules are easy to follow and fair.
Here are things you MAY NOT throw in the dumpster, most of which I have seen in a dumpster multiple times. Get it together Lubbock.
Construction and demolition materials / Roofing materials
Shingles, old carpet rolls, massive piles of carpet tack, and more. I've even seen a bathtub propped up against a dumpster. These items are prohibited from being placed in the dumpster. This one especially irks me because I know landlords, who should know better, do this too out of sheer laziness and greed.
Per the City of Lubbock website:
This type of material must be disposed of by the resident or property owner at their own expense. Disposal of this material is not part of the residential garbage charge. This type of material can be hauled to the City of Lubbock Landfill (call 757-2151 for rates and directions) or you may contact one of the numerous private garbage haulers who can set roll-off boxes at your home or business.
Items too large for the dumpster lid to close
I'm looking at you, old gross mattress. Boy, do I sure love seeing my neighbor's bed stains. There is, right now, a king-sized mattress in my alley. Other large furniture and big tree branches are other common culprits. Blocking the alley causes obvious problems, and blocking the lid from closing cause a literal stink. These need to be dropped off at one of Lubbock's Citizen Convenience Centers, which is included in your regular solid waste fee.
Citizen Convenience Station Locations

Hours of Operation
Monday-Saturday: 8 a.m. to 5:30 p.m.

Closed during City of Lubbock Holidays
This last one really grosses me out, but you're not allowed to put a Large animal carcass in the dumpster. Luckily, I've never come across anyone's leftover deer carcass in a dumpster, but I'm still relatively young so I'm not counting it out.
The following specific items are actually ILLEGAL to throw away in Texas because they are tremendous environmental and health hazards:
Tires

Used motor oil and filters from Do-it-yourself citizens

Liquid waste in excess of regular household quantities (cooking grease accepted at CCS, solidify paints by exposing to air and drying them out or mixing with a solid like kitty litter)

Automobile batteries – lead acid batteries

Refrigerators, freezers and air conditioners or other items containing CFC's
The following items are prohibited from disposal in landfills and are not part of the residential waste stream so no alternative disposal methods are available. Commercial businesses or individuals that generate this type of waste are responsible for the proper disposal of the waste through a private garbage hauler.
Friable asbestos (type which crumbles into dust particles and becomes airborne)

Radioactive wastes

Waste containing PCB's

Hazardous wastes
Like it or not, you do not own your alleyway dumpster. We all have to share it, so let's be courteous, hygienic, and safe in our trash disposal practices.
40 Photos of a Beautiful Cottage Style South Lubbock Home
All The Lubbock Food & Drink Spots That Opened in 2022
Lubbock Steak Trail: You Need to Try These 16 Delicious Steakhouses