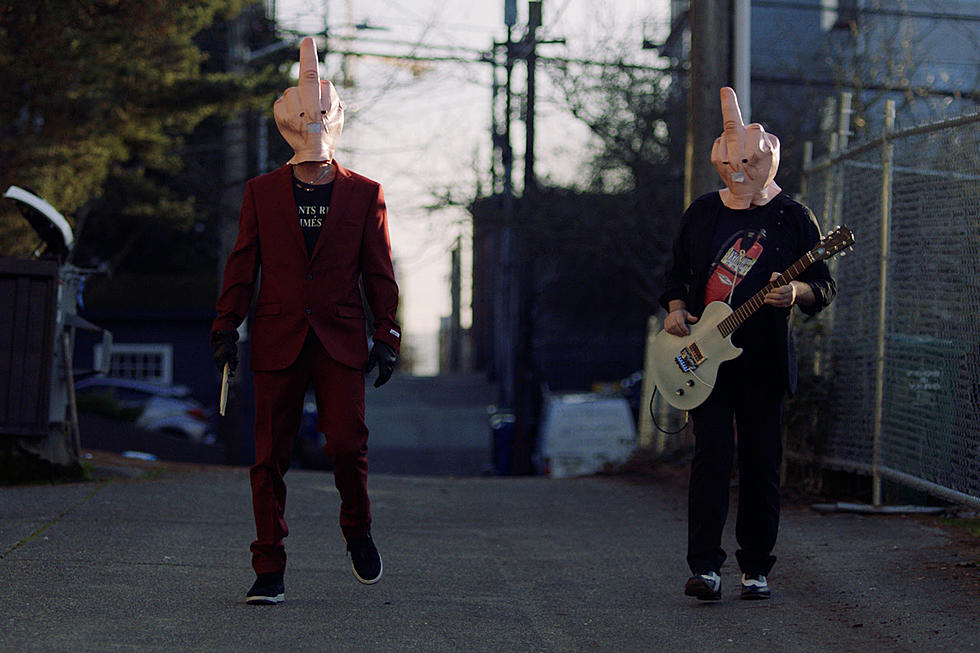 Mysterious Max Creeps Reunite Amidst Public Outcry, Announce 'Nein' Album + New Song 'Burn It Down'
Photo by Connor Ellman
Earlier this week, the mysterious yet seemingly beloved band Max Creeps announced their split, but after public outcry from Slash, Billie Joe Armstrong, Randy Blythe, Chris Jericho, Henry Rollins, Phil Campbell, Marky Ramone, Laura Jane Grace, Sum 41 and others, the band has had a change of heart. And not only have they had a change of heart, but they've gotten back together with new music ready to go.
"We heard you!" stated the duo of PC Bullshit and Max Blastic. "We are elated to announce to our billions of fans that Max Creeps have reunited."
Max Blastic and PC Bullshit admitted the Monday split was the result of their long chattered about dispute over a 30-year-old, $226 gas bill. Thankfully, the age-old gas dispute between these icons has at long last been put to bed, with the pair quickly re-entering the studio after decades of false starts.
As stated, there's new music in the form of a forthcoming album titled Nein, aptly filled with nine attitude-filled new songs. Though they split, the band was quickly picked up by Velocity Records after news that a new record was complete and now they have a May 13 street date. Plus, there's a brand new video for the Hardon Staynes-produced song "Burn It Down."
The song itself calls "bullshit" on a number of public institutions, serving up a sneering slab of raucous attitude in the process.
"I feel we've made the record we meant to have made back in the day. If the topics seem familiar, well, WE WROTE THEM FIRST," says Blastic. "I don't actually REMEMBER what the songs are about but I KNOW we were the first and the best. We were and are ALWAYS the first and best."
And solving that issue of never laying their music down to a physical product, Max Creeps have finally gotten with the times and there are now pre-orders for Nein in a variety of formats, including several limited-edition vinyl variants. Get pre-order details here.
Welcome back, Max Creeps! And thanks for finally documenting your music! Check out the video for "Burn It Down" as well as the Nein album artwork + track listing below.
Max Creeps, "Burn It Down"
Max Creeps, Nein Album Artwork + Track Listing
Burn It Down
Summer of Fun
Your Days Are Numbered
Citywide Shit
Party Anthem
Buy Something Every Day
Get a Life
The Internet Killed Me
Hung, Drawn, and Quartered (1424)
20 Rock + Metal Bands That Reunited in the Last Decade