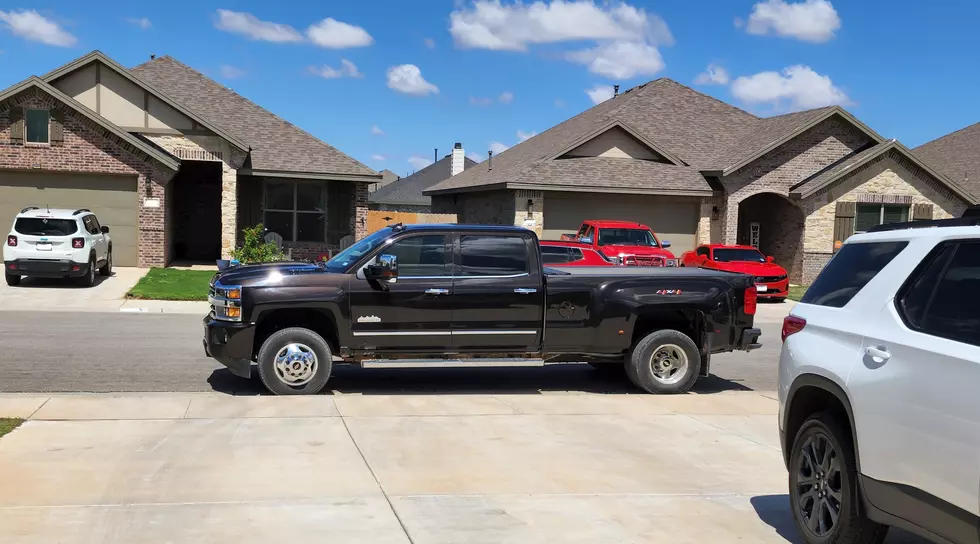 People Are Jerks. A Lubbock Idiot Committed The Ultimate Parking Sin
Lance Ballance, Townsquare Media
There it is. You can see it with your own eyes. The ultimate parking F-U.
The other day, I decided to swing by my house to hide from my boss run an errand, when I thought my eyes were deceiving me. Or that I was on the wrong street, which has happened. All the houses look the same around here.
As I pulled up to Casa de Reposesíon, I observed a very large black truck blocking my driveway. No one was waiting in the truck, so I knew that they has some sort of business on my street. The question was what and with whom. However, their location DIRECTLY in the center of my driveway made it impossible to park my vehicle, without causing damage to my lawn or my neighbor's lawn.
After a half second of deliberation, my neighbors now have tire tracks in their sideyard. But my happy ass somehow made it into my driveway.
Yep, what a jerk move on their part.
I walked around the truck, making myself VERY noticeable, taking pictures and looking for any indication that this truck needed to block my driveway for an emergency. But there was none. They were just jerks.
After a few minutes, I noticed that there were people leaving a house across the street, talking as if it were a social call. There was no important reason for them to block my drive; they just clearly didn't give a s***.
They eventually noticed me taking photos of their truck from all angles and preparing to call the city to tow their dopey arse. At this point, the owner of the truck shouted, "Oh, we're sorry! We're leaving now!" almost nonchalantly. I glared back and decided to hold back on the flurry of explicative phrases that I had stored up. I shouted back, "I hope so!" and walked back into my house.
I had plenty of ideas on what to say to them, but couldn't be "that guy" and let fly the flow of curse words that they deserved. They had no reason to block my driveway, it was just convenient for THEM, and they showed their ignorance towards their fellow citizens.
In other words, they were nothing more than redneck asshats who didn't care about anyone other than themselves. If I'd never shown up, they would have gotten away with some general douchebaggery.
To this point, my neighbor across the street has yet to come by and apologize for his guests' actions, and I don't think they will. That, to me, means they condone that behavior. As a result, it's always good to know that if I need an extra parking spot, their driveway is now fair game.
After all, I didn't make the rules in this case. I'm just following them.
Don't be a jerk. Period.
41 People Arrested Labor Day Weekend in Lubbock
Mugshots of people arrested on September 3rd-5th (Labor Day weekend) that are currently being held in the Lubbock County Detention Center.
Lubbock Vandalism
28 People in the Lubbock County Detention Center on September 2nd, 2022
55 Places in Lubbock Where You Can Get Free Stuff on Your Birthday