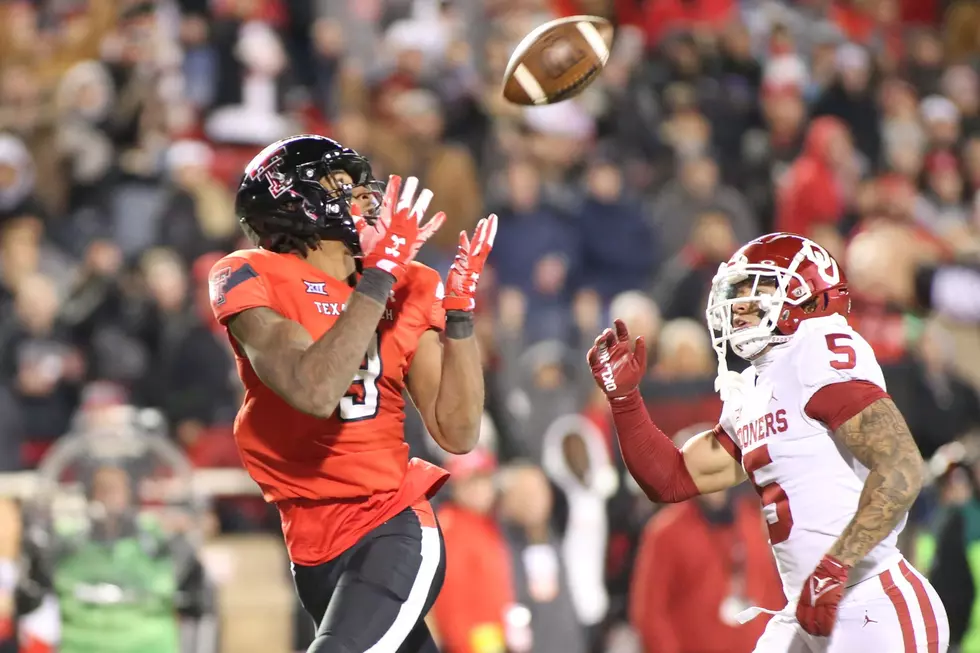 Texas Tech Beats Oklahoma in an Overtime Thriller at The Jones
Paul Roberts, KKAM.com
At Big 12 Media Days in July Joey McGuire said, "We're gonna beat OU and then we're gonna knock down the end zone." He was referencing the South Endzone project that starts when the regular season ends.
Fast forward to a 6-5 Texas Tech team facing a 6-5 Oklahoma Sooners team.
Texas Tech would have its worst start of the year against Oklahoma in their final game of the year. The team looked flat after a dynamic kick return led to a fumble on the first offensive play of the game. Oklahoma quickly cashed in on 4th down.
On the next drive, Texas Tech would punt and Oklahoma would score again. Quickly.
That would be all the scoring in the first quarter, but the second quarter would start like the first. A FG early in the 2nd quarter would put Oklahoma up 17-0. Texas Tech would finally get on the board with a Jaylon Hutchings touchdown run. On offense. Seriously.
The Oklahoma offense would punch right back with a 77-yard touchdown to make it 24-6.
That's when the fun started.
With three minutes left in the first half, SaRodorick Thompson would score from six yards out to cap a 75-yard 10-play drive to cut the lead to 24-13. Dadrion Taylor-Demerson would put the Red Raiders' offense right back on the field and four plays later, Donovan Smith was walking into the endzone. 24-20.
A Sooners three-and-out would give Texas Tech one more shot with :48 seconds left. Plenty of time for a Trey Wolff field goal. Oklahoma ended the half with a 24-23 lead, but Texas Tech had all the momentum after cutting an 18-point deficit to a 1-point deficit with 17 unanswered Texas Tech points to end the second quarter.
If you thought the first half was entertaining, the fun was only just beginning.
Texas Tech would start the second half with a fourth down stop and take their first lead of the game after a 5-play 62-yard drive ending with another SaRodorick Thompson touchdown.
OU would counterpunch in three plays to retake the lead. 31-30.
Texas Tech would immediately have a three-and-out, but Oklahoma couldn't seize the momentum. Instead, Texas Tech would force another turnover on downs. Tyler Shough would then lead a 7-play 62-yard drive before throwing a touchdown pass to fellow quarterback Donovan Smith. His second touchdown of the night, and his third different way to score as a Red Raider. A two-point conversion would give Texas Tech its biggest lead of the night at 38-31.
Oklahoma would tie the game back up with just over 7 minutes left in the 4th quarter.
Tyler Shough and Dillon Gabriel would then lead back-to-back 5-play 75-yard drives trading touchdowns. 45-45.
Texas Tech and Tyler Shough would then seemingly fold under pressure when Shough finally threw the interception he'd been flirting with all night. Texas Tech's battered defense would stand strong though and force a field goal. Oklahoma would retake their lead, 48-45.
With 4:04 left in the game, Shough would have plenty of time to redeem himself.
Texas Tech would go on a 13-play drive, converting a 4th and 7 at midfield, before stalling at the Oklahoma 28 with another 4th down. Instead of pushing it down the field, Texas Tech would play for overtime, a decision I did not agree with in real time. I'm not making the decisions though, and Trey Wolff shut me up quickly by nailing a 43-yard field goal to force the tie at 48-48.
Texas Tech would win the toss and choose to open the overtime period on defense. The Sooners would start the OT period with a reverse pass to the QB and Reggie Pearson would drop the hammer. Gabriel would miss the next play and then get sacked to force a long-field goal. Well, it was 34 yards, but that's a miraculous distance for OU's kicker who missed it wide right.
Texas Tech would set Trey Wolff up on the left hash for the win.
35-yards out.
Ball game. 51-48.
Tyler Shough finished the contest with 436 yards and two touchdowns with one interception. His favorite target tonight was Jerand Bradley who finished with 173 yards on eight catches with a 44-yard touchdown catch. SaRodorick Thompson led the rushing attack with 86 of the Red Raiders 160 rushing yards.
The Texas Tech Red Raiders have an insane battle against the Oklahoma Sooners
Texas Tech got behind 24-6 before storming back and making it a contest.
Texas Tech Celebrates their Seniors Prior to Kickoff Against Oklahoma