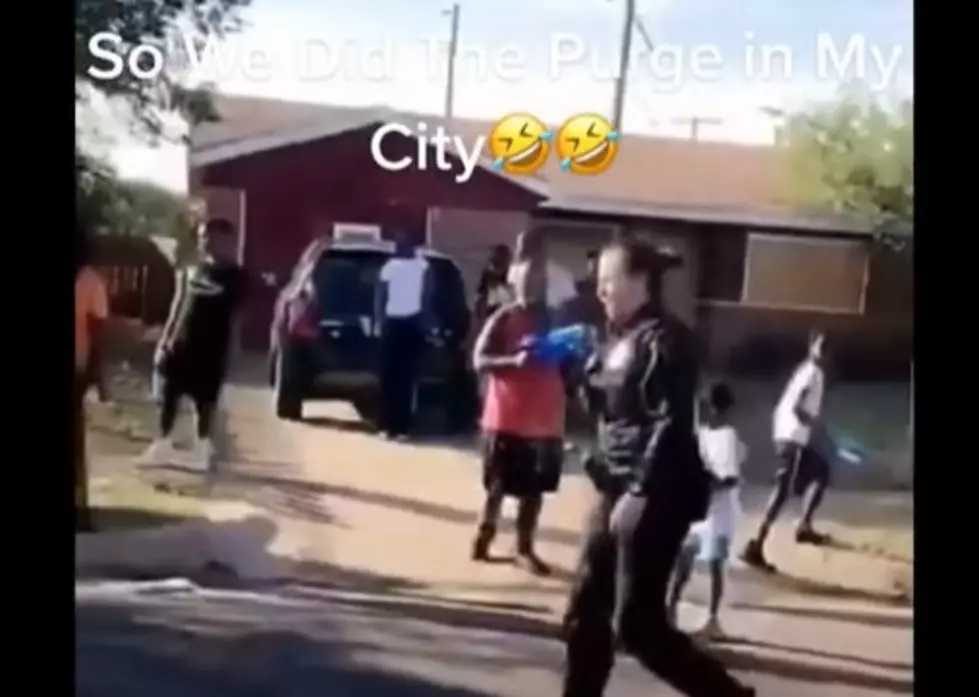 Viral Lubbock Water Fight Video From 2018 Resurfaces on TikTok, Crowd Sprays Female Officer With Water Guns
TikTok via @meekaluv1
I couldn't really believe what I was watching when I came across this video on TikTok today. This incident originally happened back in 2018 and it looks like someone decided to re-share it five days ago for s***s and giggles. It shows a bunch of people laughing and cheering while they shoot water guns at a female Lubbock police officer.
The video references the hit movie, The Purge. If you aren't familiar with the movie, it's a horror film where, on one day of the year, you're allowed to kill anyone you want to. According to sources online, the day was meant to be a fun day of water gun fights in the Eastside of Lubbock, but it looks like it took a turn when the officer was soaked by the group while responding to a call.
The video has now garnered even more views and it's clear from the comment section that people feel very strongly one way or another about it.
Here's what some commenters on TikTok had to say:
"I would hate to think this is typical of Lubb Texas. I grew up here it comes down to doing what you're told Don't assault The police."
"Somebody should I helped her and then everybody cries when it's the opposite"
"how things have changed, there's gotta be mutual respect"
"hahahah love it dam wish I was there"
"This the best thing I have seen all year, love it "
It's all pretty unsettling to me, and the fact that people are re-sharing it, four years later, just to laugh about it again is kind of gross. I don't always agree with the police, but this situation was pretty uncalled for.
Do you remember when this happened? Were you there? Comment on our Facebook page.
Watch full body cam video of the Lubbock water fight provided by the Lubbock Police Department:
7 Wacky Google Reviews of the Lubbock Police Department
There's a lot going on here.
10 Safest Neighborhoods in Lubbock
Here are Lubbock's 10 safest neighborhoods according to violent and property crime numbers found on
Neighborhood Scout.
15 of Lubbock's Least Expensive Neighborhoods
These are some of the least expensive neighborhoods in Lubbock according to data gathered by
neighborhoodscout.com
.