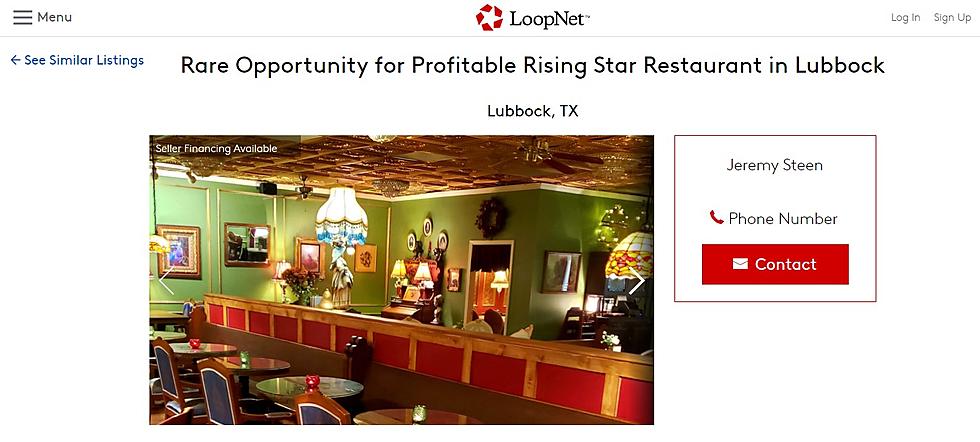 WAIT: Is Lubbock's Famous King Street Pub Up for Sale?
LoopNet
So I was scrolling through the internet looking at what was going on in Lubbock when this page on LoopNet came up. I saw the title and it got my attention. It says "Rare Opportunity for Profitable Rising Star Restaurant in Lubbock."
After looking at the post and the pictures, something clicked in my head and I said, 'I think I know what restaurant this looks like.' It was King Street Pub.
If you've ever been into King Street Pub, you know exactly how different their decor is.
The description on the article says:
"Beautifully decorated, well-established, independently-owned fine-dining restaurant with a full bar for sale. The current menu offers steaks, pasta, and Tex-eclectic fare at dinner with lighter choices for lunch. A loyal customer base includes catering and a nicely-populated wine dinner email list. The 5000 s/f space offers seating for 140+, tons of storage, a semi-separate bar, a companion bakery/cheese shop, and room for expansion. Antiques, velvet curtains, art, and new kitchen equipment make the initial investment worth the FF&E alone! Situated at a busy intersection in a university town of more than 250,000, this turn-key opportunity is perfect for investors, an experienced restaurateur, a husband-and-wife team."
Whether this really is King Street Pub or what for sure is happening, we don't know.
We do have comment from the owners and this is what they said:
Well, this isn't really "new" news, as we put it on the market over 2 years ago, when we started planning for retirement. We took it off the market during the height of the pandemic. Our first restaurant took six years to sell, so we are fully aware that selling a restaurant can take a while. BUT, if anyone's interested, they can contact 

Jeremy Steen

!
In the meantime, we are here, open, busy, and ACTIVELY HIRING!
I don't know if the restaurant would stay the same with new owners or drastically change, but I guess time will tell. Based on the LoopNet listing, we do know the owner is selling it because they're "starting a new project." Hopefully that means something new and exciting is coming soon to Lubbock.
If you want this place to stay the same and run it, the website says it will cost you about $349,999. For now, I hope the restaurant does stay open and this all works out for the owner.
53 Lubbock-Area Food Trucks You Need to Try
Here's a list of all the food trucks in alphabetical order so it is easy for you to find here in Lubbock. Support local!
17 New Restaurants Opening in Lubbock in 2022
Great new restaurants are set to open this year in Lubbock, Texas.