Wetter Is Better: What the Likely El Niño Shift This Year Means For West Texas
Photo by Dan Meyers on Unsplash
It is marginally more likely that West Texas will have a drier and hotter than usual Spring, according to current climate models. However, we may be in a good spot to make up some precipitation starting in the late Summer.
This is because we had a La Niña Winter and will likely have an ENSO- neutral Spring. ENSO-neutral simply means it is neither a La Niña nor an El Niño pattern. But what do THOSE patterns mean?
Anyone old enough to have enjoyed Chris Farley's reign on SNL knows that El Niño is Spanish for... the Niño.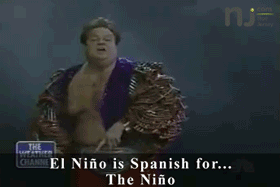 But weather-wise, El Niño means that temperatures are hotter in the Pacific, meaning more rainfall in Texas from those evaporated waters. La Niña is simply the opposite.
More rainfall means cooler temps, so it's sort of an inverse pattern happening and El Niño tends to benefit us in Texas, although it can cause extreme weather events, like tornados.
The shift is likely to start happening around September. Neutral conditions will likely shift as early as March. We have been in a La Niña for an unusually long time:
 La Niña pattern has been in place for the last three years (which is rare), and current signals are hinting at a shift this spring. We look at the sea surface temperatures in the central and eastern equatorial Pacific Ocean.
Most of Texas is experiencing drought conditions, with all of the Texas panhandle experiencing moderate to extreme drought. Here's hoping it gets wetter well before September.
10 Fun Facts About The Oldest Town In Texas
Texas, Bartenders Reveal What Your Drink Order Says About You
Your Blue Bell Ice Cream Favorite, According to Your Star Sign
Align your stars with this Lone Star favorite. This is your favorite Blue Bell Ice Cream flavor, according to your star sign.