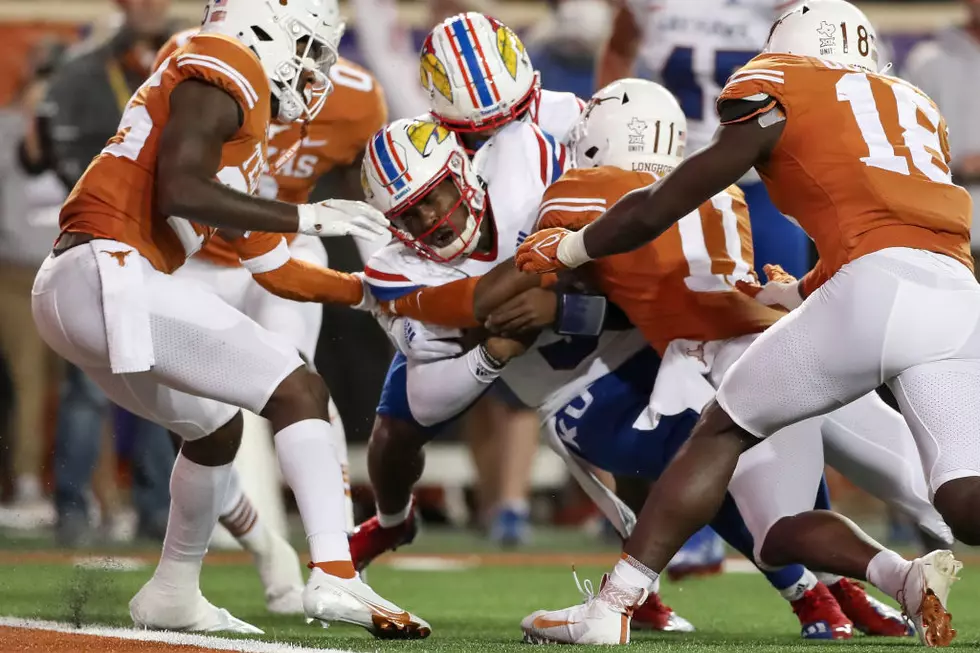 Piss Off the Longhorn Fans in Your Life With These 30+ Facts About Texas Football
Tim Warner/Getty Images
If you're on the National Championship-winning Texas Tech Twitter, then you might have already seen these. If you haven't, you're in for a treat.
If you're unaware, the Texas Longhorns are coming to town this weekend, and that means the "rivalry" between the Longhorns and Red Raiders is in full swing.
I put the word rivalry in quotations because the Longhorns try to tell us every season how little this game means to them before quoting the score from last season in every conversation until the next game. If Texas Tech happens to beat Texas in any given season, then they'll just recount a dozen other facts that they've all memorized about how Texas Tech is trash and the Longhorns are amazing.
The real fact is that most every Longhorn fact is a cherry-picked giblet pulled from deep in the universe and thrown out enough times that people just believe it. In the spirit of this rivalry that's definitely not a rivalry, Twitter expert and Longhorns lover Kyle Umlang started #TechFactTuesday where he shares these regurgitated facts about Texas being better than Texas Tech.
To be fair, Umlang is an equal opportunist and also has Sooners facts and Aggies facts. Those are totally real rivalries, while Texas Tech isn't. To be fair, he turned the Aggies facts into a book.
In response, Kyle from the Gamblin' Gauchos and the rest of Texas Tech Twitter took it upon themselves to respond to #TechFactTuesday with #LonghornFactWednesday. It went so well that at one point #LonghornFactWednesday was trending on Twitter.
So, if you're a Texas Tech fan having to deal with Longhorn coworkers or friends, or, even worse, Longhorn family, forward them this article full of totally real, legitimate facts that are totally real and not manipulated in the slightest.
Like this, completely accurate fact driven by analytical data and the scientific method:
More facts: forget who was coaching for the first several and focus on the latest Sweet 16.
ROI Facts.
Clarifying facts.
Double painful facts.
Plenty of Kansas Jayhawks facts.
NFL facts.
Recent history facts.
Track and Field stats.
One-of-a-kind facts.
More NFL stats.
More Patrick Mahomes facts than you'd ever want or need.
My personal favorite stat:
Vanderbilt facts.
Mascot facts.
All the facts.
If you need more Longhorn Fact Wednesday, great Big 12 and Texas Tech content or if you're a Longhorn who hates facts, follow the Gamblin' Gauchos on Twitter.
18 People Arrested in Lubbock on September 20th, 2022
Mugshots of 18 people arrested in Lubbock on September 20th, 2022
Approximately 40K Will Buy You A Boarded Up Piece Of Junk House In Lubbock
36 Photos of a Gorgeous Lubbock Home With a Built-in Vault