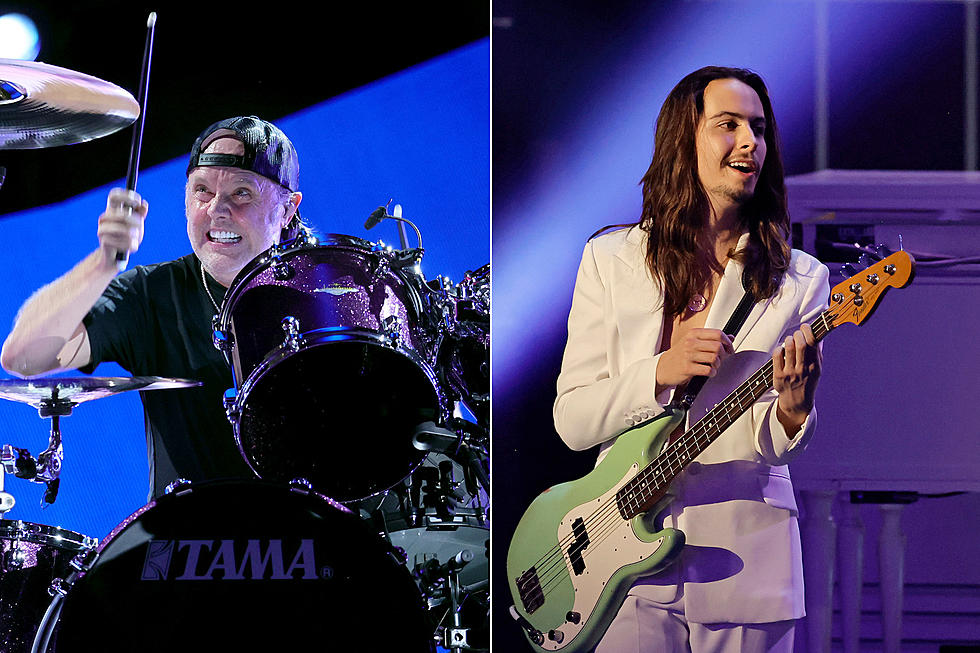 What Lars Ulrich Told Greta Van Fleet's Sam Kiszka About Getting Older
Theo Wargo, Getty Images / Kevin Winter, Getty Images
When Metallica bring a young band out on the road with them, it's likely because they see a lot of potential in the group. Greta Van Fleet will open for the metal legends a few times in 2024, and Sam Kiszka has revealed what Lars Ulrich previously told him about getting older during a recent interview with Billboard.
Greta have already opened for Metallica in previous years, so it's obvious that there was a positive response to the pairing from the crowds. The group is just days away from the release of their third studio album Starcatcher, and they've been selling out plenty of their own headlining shows over the last few years. So what comes to mind when they think of a band like Metallica, who have 11 records in their catalog and have been selling out stadiums for over three decades?
"Consistency, longevity," Kiszka responded. "You have to have a lot of passion to be able to do something for so long and be so good at it. I've talked to Lars about getting older, he says, 'I have to work five times as hard to just even get to the level that I was at decades ago.'"
"But he's a perfectionist," vocalist Josh Kiszka chimed in. "They're all kind of that way. They're all perfectionists, they take what they do very seriously."
Greta may very well be on their way to a long career as well, though, as they're already thinking about album number 4. Elsewhere during the interview, drummer Danny Wagner said that once the record is done, they're always moving onto the next one.
"We're actually about to start the next album as we speak," he said.
READ MORE: Jacoby Shaddix Says Papa Roach + Two Other Bands Are 'The Next Metallicas'
Josh Kiszka further added that band sometimes puts songs aside and then fleshes them out when they feel it's an appropriate time to release them.
Check out the full interview clip below. Greta's tour kicks off July 24 in Nashville, and Starcatcher will be out this Friday (July 21). Pre-order the album here.
What Lars Ulrich Told Greta Van Fleet's Sam Kiszka About Getting Older
11 Bands Leading the Classic Rock Revival
They give nostalgia a modern twist.