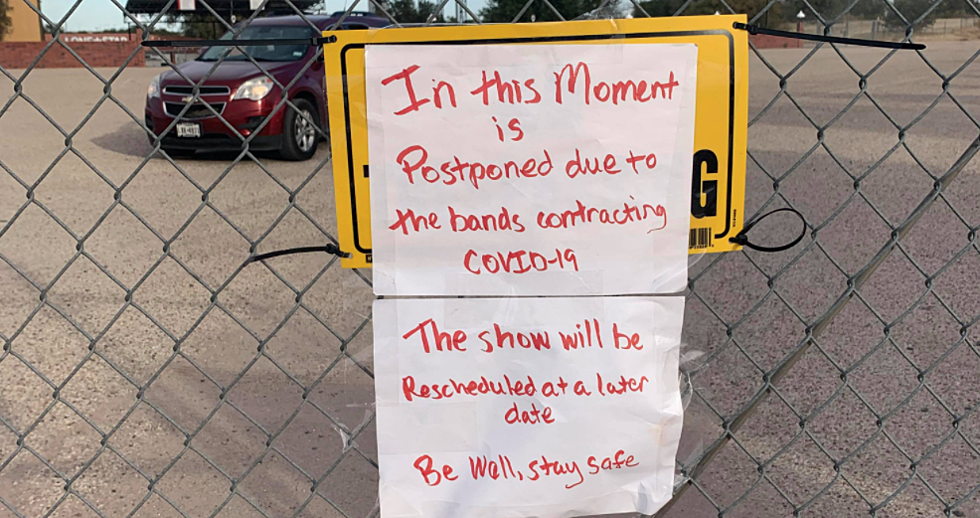 More on In This Moment's Lubbock Cancellation
B.Beach
Apparently, people can't handle the truth around here.
In This Moment was in Lubbock, Texas Thursday night. They were spotted by multiple people jamming acoustically in a hotel parking lot. They were good to go, but along with Black Veil Brides, were waiting to see why they had a member that wasn't feeling good.
I received a message at 9 p.m. that night after I had gone to bed that just said "call me." I messaged back about 2 a.m. and got a phone call around 8 a.m. that morning that there "may be a problem," which I understand was the bands waiting on test results. I guess it was about an hour later I got a call saying the show was postponed and that they will probably make up the date at the end of the tour (FYI: an Oklahoma show was also canceled).
We never ever held back any information and presented the information as quickly as we could. You see, until the bands officially canceled, there might have been some other option on the table -- I dunno, maybe have a tech replace that person for the show.
I guess where people have a problem is stating that this is another case of people who are reluctant to get the COVID-19 vaccine ruining it for everybody. It still is, 100 percent. You can even look at it in two ways: #1, it's real and people cannot risk their own health or the health of others, or #2, it's not real, but it gives people a great excuse when they don't want to do a show. Take your pick. I don't care which side you fall on, even though the second choice is a little ridiculous. No matter what side you fall on, as long as vaccinations rates are low in the Lubbock area, then that will be cited as the source of the problem.
I also want to state that I do not read the comments on the FMX Facebook page. I handle my business personally. You can join my 5,000 fans on my Facebook page or email me directly. I'm just not going to deal with random trolls who are venting because their mama didn't teach them respect.
We will let you know if we hear any more news about the band rescheduling and/or if there are any hiccups with the Volbeat show, because that's what we do -- let people know what's going on with their favorite bands and concert stops. We do not pay bands or make any money based on ticket sales. In fact, informing you by talking about these things for free probably costs us money instead of nickel and diming the promoters for more advertising.
Right now, we have our fingers crossed and our butts puckered hoping the 40th Birthday Bash goes down. If Volbeat's OKC show goes down tonight, we should be good. Keep rockin' with 94.5 FMX and we'll let you know.
*One more note that I just thought of. On Monday at 9:01 p.m. I was sent set times for the Lubbock date.
 5:30 p.m.                  Doors           
 7:00 - 7:30 p.m.       DED
 8:00 - 9:15 p.m.       BVB
 9:45 - 11:00 p.m.     ITM
So once again, anyone casting doubts on the good intentions of the band, the promoter, or the radio station is full of beans and does not know what they are talking about. 
66 Time Lubbock Was Mentioned In Pop Culture
The 10 Most Haunted Places in Lubbock