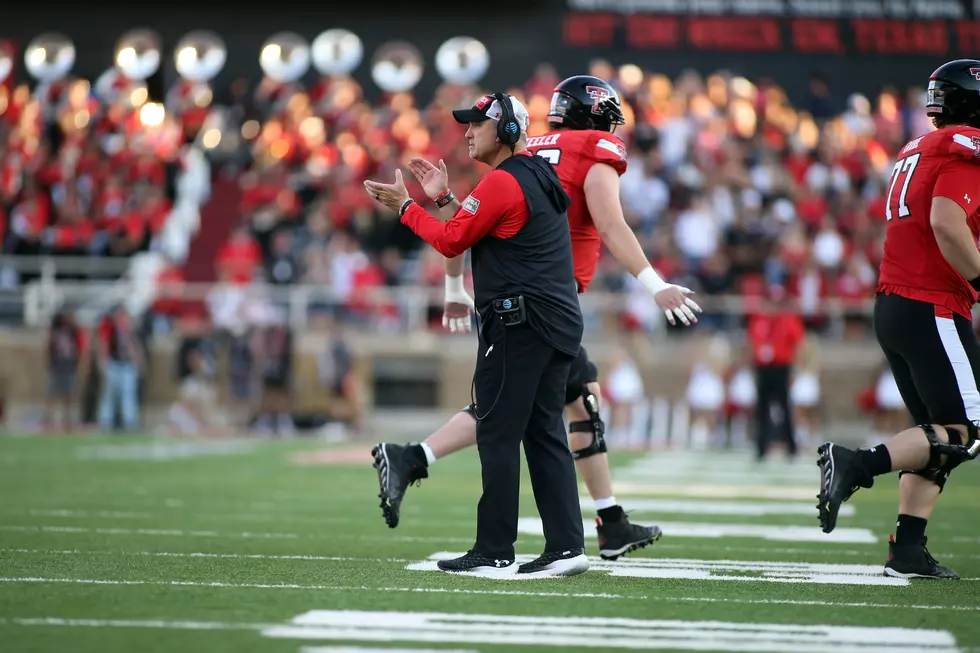 The Joey McGuire Era Starts With an Absolute Bang
Paul Roberts, kkam.com
Before tonight, 2018 was the last time Texas Tech made an opponent look absolutely inferior. In Kliff Kingsbury's final game against an FCS opponent, the Red Raiders housed Lamar 77-0. In Joey McGuire's first game against an FCS opponent, Texas Tech beat the Murray State Racers 63-10.
It was 42-10 at halftime.
The scoring started early as the Red Raiders forced Murray State to punt after the opening kickoff. Tyler Shough handed off to SaRodorick Thompson on the first play from scrimmage with Zach Kittley as the offensive coordinator. Thompson then turned around and tossed it back to Shough standing in the endzone. Shough threw deep to Jerand Bradley.
A flea flicker to set the tone. Three plays later, Loic Fouonji scored the first points of the game catching a touchdown from Tyler Shough from 30-yards out.
Another Murray State punt put the ball back in Tyler Shough's hands and Kittley and Shough only needed five more plays to score again. This time a Tahj Brooks 14-yard touchdown run.
Murray State would cut the lead to 11 with a field goal drive, but that wouldn't last long.
A few plays into the following Texas Tech drive Tyler Shough ran up the Murray State sideline and was tackled from behind. He came up rubbing his shoulder after a 17-yard gain. Shough stayed in the game and threw four more passes, completing two of them, but as the quarter expired he headed to the locker room and Donovan Smith replaced him.
Smith took over in the 2nd quarter from the 25-yard line. After a holding penalty pushed them back, Smith would connect on a touchdown to Jerand Bradley from 30-yards out. Smith would score on four straight drives to end the half with a 42-10 lead.
The second half would see Smith throw two more touchdowns before being relieved by Behren Morton midway through the third quarter. With most of the backups joining Morton the offense finally stalled, but Morton was 7-10 for 97-yards and a touchdown pass of his own to Mason Tharp.
Texas Tech's defense pitched a shutout in the second half, but did give up several chunk plays in the opening half. All told, Texas Tech outgained their opponent 605 yards to 258. The three Red Raider quarterbacks combined for 472 yards and six touchdowns. Red Raider running backs totaled 133 yards. Brooks led the way on the ground with 50-yards and three touchdowns. SaRodorick Thompson scored on a touchdown reception from Donovan Smith early in the third quarter.
Highlights: Texas Tech vs Murray State (September 3rd, 2022)
Check out our favorite shots from the Texas Tech Red Raiders' season opener against the Murray State Racers by Lubbock photographer Paul Roberts.