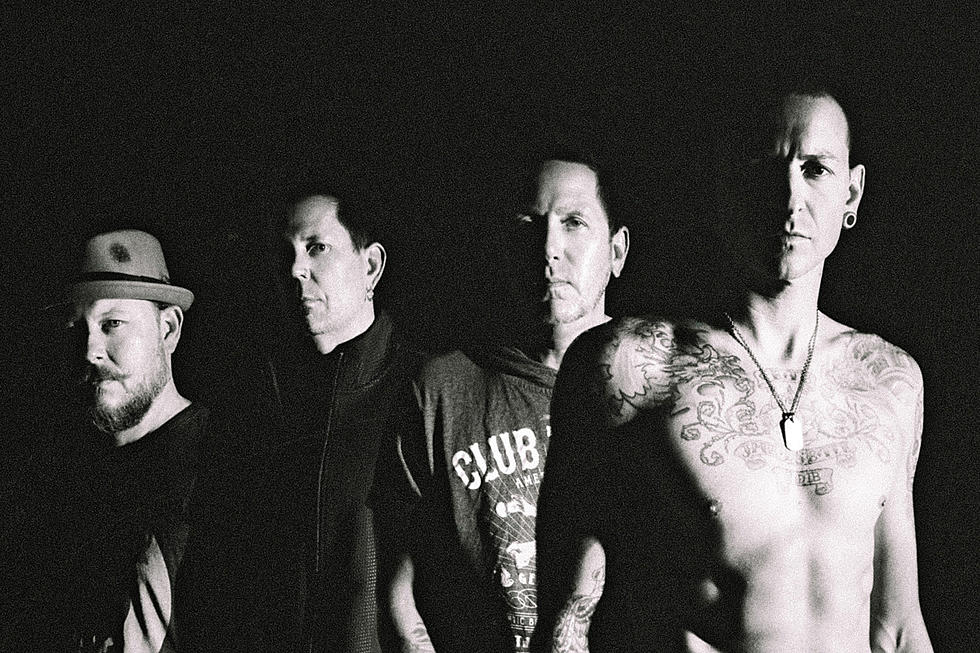 Grey Daze May Continue With New Music Beyond Chester Bennington Tribute
Photo by Tom Preston
Grey Daze returned to the music scene in 2020 with the Amends album, as a tribute to their onetime vocalist Chester Bennington, gaining permission to showcase his vocal tracks performed with his onetime bandmates and some of his musical peers. They followed in 2022 with a second collection titled The Phoenix. But might there be a future for the group beyond their initial vision of reuniting to celebrate Chester's musical legacy?
During a chat with KCAL 98.7's Wired in the Empire host RadioActive Mike Z., drummer and Grey Daze founder Sean Dowdell and the band's current touring vocalist Cris Hodges discussed what the future does hold.
Hodges, who also sings with the Linkin Park tribute band In The End, came on board for the group's first live performance since 1998 when they played Phoenix's U-Fest back in May of this year. And the working relationship has gone well enough that Grey Daze are considering new music with the singer.
"We're working on that," explains Dowdell. "I think it's important for Cris to get his own footprint in the band. The guys discussed when we originally brought him in that initially we were just going to do some shows, and as the fan base has really brought him into the fold and accepted him quite well, it's nice to play these songs because their so meaningful to us, but we also want Cris to have some ownership with what we're playing. So we are starting to go back in and write with Cris."
"Hopefully we will have some new music," the drummer added. "I'm not sure about a full album yet, but we'll at least record a couple of songs and see how they're received. I think it's important to do."
"I think for me, it's all about what the fans will want. If the fans want it, then we'll do it. We started out with the idea of just a few shows and then the few shows turned into a few more shows and if this snowball effect keeps happening, who knows what will happen. But we first and foremost just wanted to make sure we were honoring the memory of what Chester did for Grey Daze," added Hodges. "We'll see what happens, but if the fans want it, I don't see why we wouldn't bring it to them."
Grey Daze initially recorded two studio albums with Bennington in the '90s before he eventually moved on to join Linkin Park. Prior to Bennington's death, the singer had discussed putting the band back together for a show, and the idea to fulfill that promise was what propelled the group to reunite to showcase Bennington's vocals from the early days as a tribute.
READ MORE: Chester Bennington's Daughters Appear on Grey Daze Album
Speaking about the addition of Hodges, Dowdell explained that it came about because there had been inquiries about taking the music to a live setting. "We had gotten asked to do some pretty large concerts for that first record that we had to pass on because we just didn't have a way that we could wrap our minds around playing live," he explained. "It felt like we were betraying Chester by doing it. We didn't want to do this hologram thing and it wasn't like we were going to be able to get 12 giant rock stars to come out and sing, so it felt like an impossible task."
He continues, "We just sat down one day and were like, 'What does this look like if we bring in a singer that maybe isn't super famous that loves the music and can sing the music and just doing our best job of doing the songs justice live, letting whatever vocalist we bring in be himself and not have him be a replacement for Chester, cause I think that would be disingenuous and kind of hokey?' So Cris was one of the first people we reached out to and had a conversation and we got everybody on a Zoom call and just talked it through. We just decided to do one show and that was the original inception."
Grey Daze have continued to add more tour dates with Hodges now in the fold to sing. They have three more dates on their current run, performing at the Rebel Lounge in Phoenix on Friday (Aug. 11), The Canyon in Agoura Hills, California on Aug. 18 and The Canyon in Montclair, California on Aug. 19. Plus they have plans to play the Tattoo Cruise in Germany next May. Get details here.
Grey Daze's Cris Hodges Speaks With Radioactive Mike Z.
15 Times Linkin Park's Chester Bennington Sang What You Were Feeling
The singer had a knack for delivering powerful emotions through Linkin Park's lyrics.