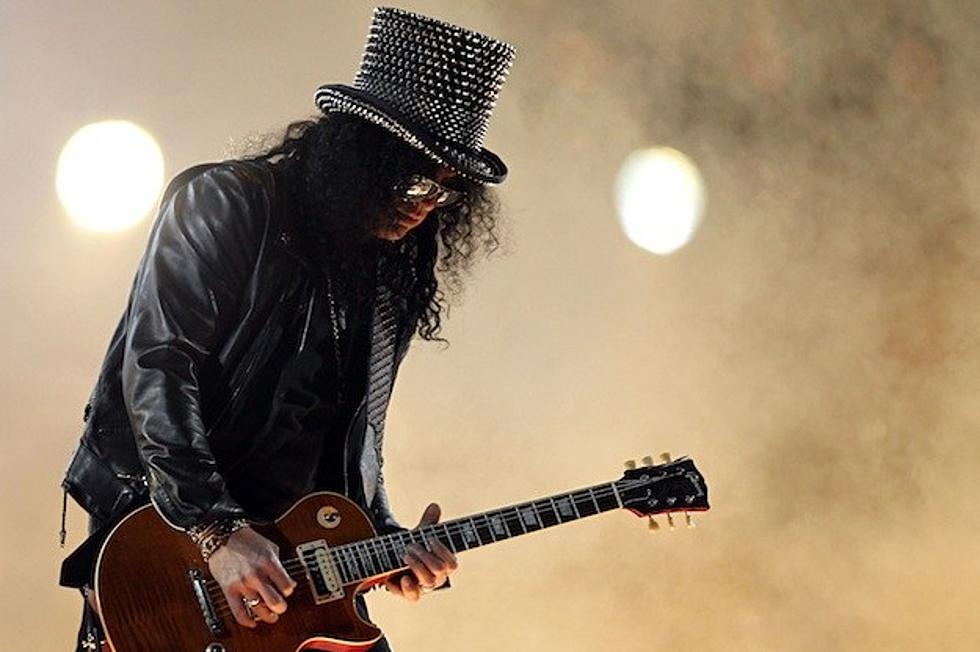 Slash Releases 'Gotten' Music Video to Benefit Homeless Youth
Revered guitarist Slash has released a new music video for the song 'Gotten' — which features Maroon 5′s Adam Levine on vocals — in the hopes of raising awareness and funds for the homeless youth of America.
Slash is showing that in addition to a big top hat, he also has a big heart. The soon-to-be Rock and Roll Hall of Fame inductee has partnered with the Los Angeles Youth Network (LAYN) by releasing a video for 'Gotten' — a song from his 2010 self-titled solo debut — that will raise funds for the charity.
"This video was created to make people take notice of the homeless teen epidemic which is rampant in L.A. as well as in the rest of the country," explains Slash. "The story in this video is just one scenario amid millions of potential situations happening at any given time in Los Angeles alone. Everybody involved with the making of this video selflessly donated their time and talents to this cause. I thank them with all my heart."
The LAYN is a nonprofit organization that provides aid to upwards of 10,000 homeless and runaway youths on a daily basis. "LAYN is extremely grateful to Slash, Astound Studios, GenAudio and the entire creative force that has come together to support the programs and services of LAYN for homeless and runaway youth often missed by so many systems and who have such limited options for support," explains Mark Supper, Executive Director of the charity. "Your donation helps us prevent the potential harm these youth are vulnerable and at risk for, and assists us in keeping them from being exploited or victimized on the streets of Los Angeles."
A special mix of the track and video are available for download here — the proceeds from which will benefit the Los Angeles Youth Network. The video features several recognizable faces including Slash himself, actors Judd Nelson, Clifton Collins Jr., and 'True Blood' star Kristen Bauer among others.
'Apocalyptic Love,' the follow-up to Slash's debut solo effort will be released on May 22, and features Alter Bridge frontman Myles Kennedy and The Conspirators in place of the revolving cast of musicians on it's predecessor.
Watch Slash's Music Video for 'Gotten'