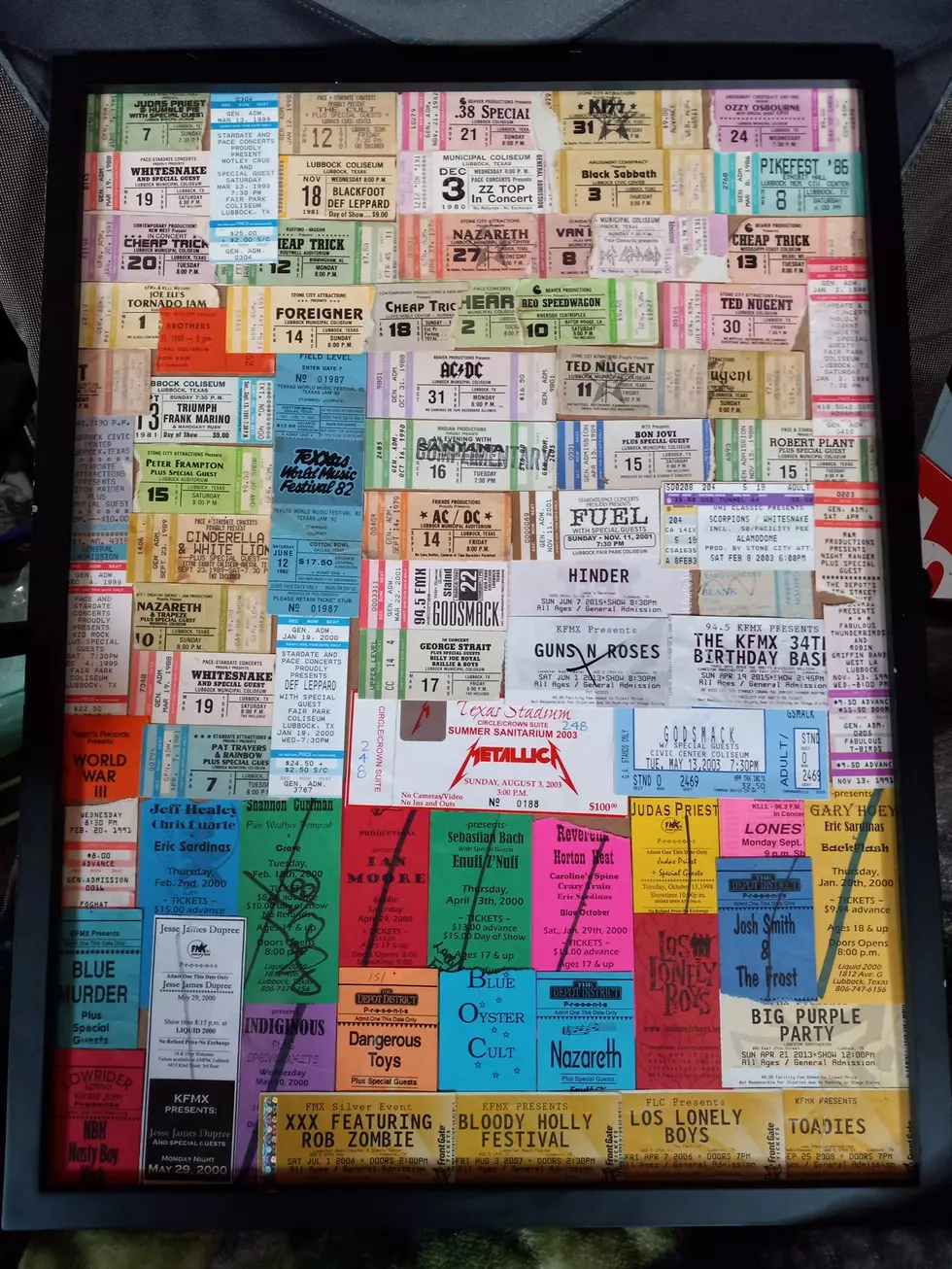 You Absolutely Cannot Beat This Collection of Lubbock Concert Tickets
M. Rendon
Another 94.5 FMX listener-created ticket display may be the ultimate.
This is just an amazing collection of concert tickets that a listener decided to frame. It's so awesome for me to look back on this.
For once, let's start at the bottom. There's nothing I can really say about the 30th Birthday Bash with Rob Zombie, Bloody Holly or The Toadies. What I want to focus on as a way of thanking this listener is it was this husband and wife who actually saw Lost Lonely Boys at the Depot Warehouse and turned me onto them. I then mentioned them to a promoter who booked them to open for the Fabulous Thunderbirds, then eventually for this show.
A little further up I see the name Eric Sardinez. It looks like Eric was active up until the pandemic and may be taking some time off right now. Let me tell you, we all about s**t a brick when he poured liquor in a circle onstage and played in a ring of fire.
Heading a little towards the summer middle is a stub from the bus we took to see Metallica at Summer Sanitarium. The partying on that trip was so intense that it took me about a week to get over. That was the show with Limp Bizkit, Linkin Park, Mudvayne and Deftones.
I was also intrigued by that Texas World Music Festival '82 ticket. I looked it up and the lineup that year was Journey, Santana, Sammy Hagar, Joan Jett & Point Blank.
The last thing I'll mention before you delve into your own memories is the Triumph ticket. I was just commenting yesterday on my live feed about how Triumph used to play Lubbock constantly. That band had so many great songs and an unbelievable live show.
If you think you have a ticket display that competes with this one, hit me up and I'll dissect it a bit.
Throwback: 32 Pictures of Epic Concert Tickets in Lubbock, Texas
Here is the first batch of FMX concert tickets that we'll be publishing.
154 Pieces of 94.5 FMX Memorabilia, Concert Tickets, Passes & More